ASAGE is an electronic graduate journal sponsored by the American Society for Aesthetics. We publish advanced graduate work in the philosophy of the arts.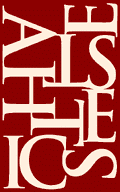 Announcements
Call for Dissertation Abstracts

ASAGE is accepting brief dissertation abstracts.
Posted: 2012-04-30
More...

Call for Book Reviews

Would you like to write a book review for ASAGE?  Click 'More...' for more information.
Posted: 2008-10-29
More...

Call for Blind Reviewers

Are you interested in reviewing for ASAGE? Click 'More...' for details.
Posted: 2008-07-09
More...
Vol 10, No 1: Fall 2017 / Winter 2018
Left to right: Afia Ofori-Mensa (Oberlin), Monica Miller (Barnard), and Siobhan Carter-David (Southern Connecticut State University) presenting at the conference Exploring Beauty and Truth in Worlds of Color.
Photo courtesy of Robert Mishlove.

ISSN: 1946-1879